---
Cloud communications is expected to witness a substantial growth over the next five years, as businesses are switching from legacy PBX solutions to cloud communications and opting for a pay-as-you-go model to optimise expenses and avoiding upfront investments.
Against this backdrop, the cloud communications market size is anticipated to grow at a compound annual growth rate of 18.3% from $78 billion in 2022 to $180.7 billion in 2027, forecasts GlobalData, a data and analytics company
GlobalData's latest report, 'GlobalData Market Opportunity Forecasts to 2027: Cloud Communications', reveals that the US was the largest market for cloud communications in 2022, with a share of 36.7% of the total revenue, followed by China with an 8.5% revenue share. Meanwhile, India and Singapore markets are expected to record the fastest growth, registering CAGRs of 28.4% and 28.1% respectively, over the forecast period.
Tejal Hartalkar, senior technology analyst at GlobalData, said: "Cloud communications is expected to continue its growth significantly due to scalability and adaptability. The technology offers both enhanced user and customer experience. In addition, these platforms often include advanced analytics and reporting features that help businesses gain insights into their communication patterns. This data-driven approach allows enterprises to make informed decisions and improve their communication strategies."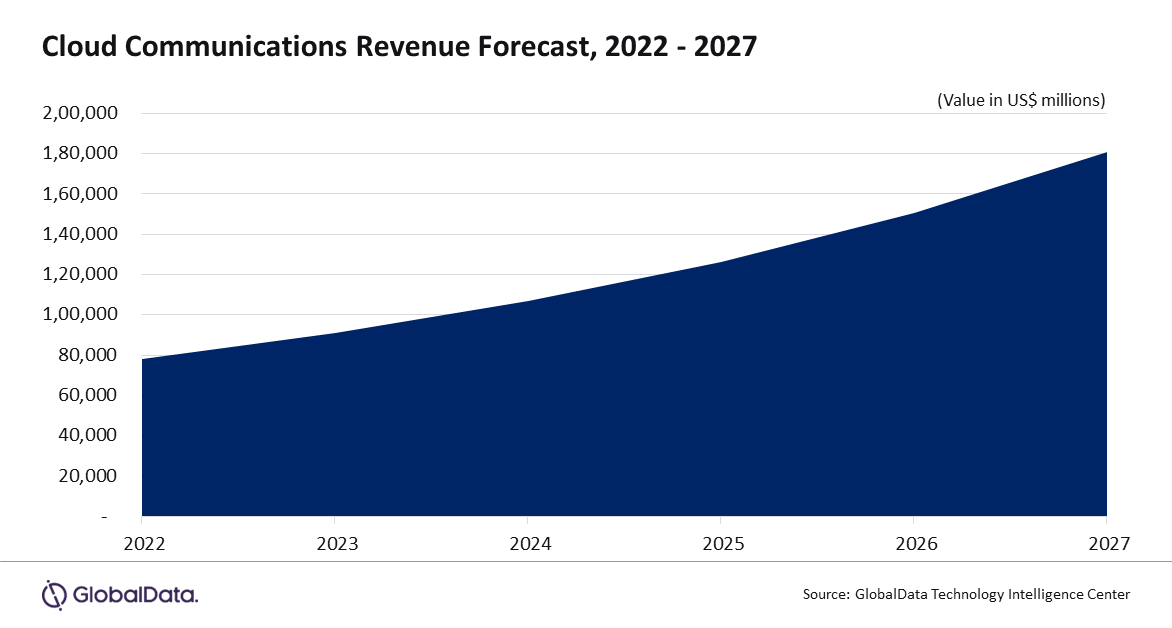 According to GlobalData, the key verticals for cloud communications are manufacturing, information technology (IT), retail, retail banking, and government, which collectively accounted for 33.7% of the overall market in 2022. The growing implementation of work-from-anywhere (WFA) and bring-your-own-device (BYOD) will continue to drive the implementation of cloud communications across all sectors. Cloud-based communication API solutions are facilitating remarkable advancements in all industry verticals by enabling streamlined communication and enhanced operational efficiency.
Gary Barton, research director for Enterprise Technology and Services at GlobalData, said: "Cloud communication platforms have become the default option for most organisations. This trend was boosted by COVID-19 but has continued thanks to cloud-focussed digital transformation strategies by enterprises. The cloud model offers the flexibility that most businesses require as work patterns evolve, and workforces grow and shrink. The cloud model also offers a strong disaster recovery component, The addition of complimentary components such as API plug-ins and AI are increasing the ability of these solutions to offer business value and enhance customer engagement."
Hartalkar said: "AI is shaping how the businesses operate. Enterprises are insistently using AI-integrated cloud communication platforms to empower their customer service and sales agents. AI-powered virtual assistants and chatbots can assist enterprises in automating primitive tasks so that the agents can focus on more critical jobs. Virtual assistants and chatbots have been around for some time, but in the coming years, developments in AI will make their voice exchanges sound more natural and engaging."
Barton added: "Regulatory pressures are increasing in most markets regarding the storage and transfer of employee and customer data. Cloud communication vendors and solution providers are therefore investing in security measures and encryption capabilities, and local hosting options.
"These features help companies to meet stringent data protection and privacy laws like GDPR and CCPA. This allows businesses to reduce their compliance risks, enabling them to focus on core operations while ensuring transparent data practices. These enhancements ensure the ongoing relevancy of the cloud-hosted collaboration model."
Want to learn more about cybersecurity and the cloud from industry leaders? Check out Cyber Security & Cloud Expo taking place in Amsterdam, California, and London. Explore other upcoming enterprise technology events and webinars powered by TechForge here.